Self Help Information
Whether it's experience of a medical condition, a medicine, a treatment, or a service, it is very likely that someone has been in a similar situation. We recommend the following links for all your self help, information leaflets, and patient forums - http://www.patient.co.uk
or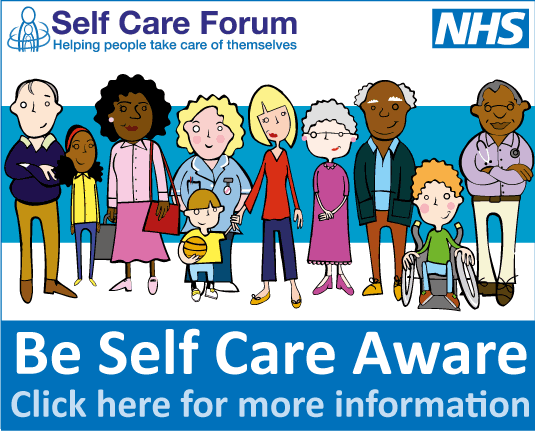 Do I really need to see a doctor?
Many common adult aches and pains can be easily treated at home without the need to consult your doctor. By following the simple steps below you may be able to save yourself and your doctor time by avoiding an unnecessary visit to the Surgery.
Back Pain
If you experience pain as a result of lifting heavy items, doing too much gardening etc., then take things easy for a while, sit as upright as possible, preferably with a support in the small of the back. Take aspirin or paracetamol to relieve the pain and inflammation. If the pain persists for more than a few days you will then need to consult your doctor.

Burns
Apply plenty of cold water until the pain reduces, which may take some time. If the skin is unbroken or blistered, apply a loose, dry dressing. If the skin is broken of the burn area is more than 4 inches wide, consult your doctor/nurse as soon as possible.
Sunburn should also be treated with cool water. Calamine lotion and paracetamol may also relieve the pain and discomfort.

Diarrhoea & Vomiting
Usually nothing to worry about. Have nothing to eat and drink no milk for 24 hours, sip small clear fluids regularly (water or squash). If symptoms persist, see your doctor.

Coughs & Colds
There is still no cure for the common cough or cold apart from time. Bed rest and plenty of drinks are needed; aspirin or paracetamol may help to relieve fever or headaches. Medicines from the chemist may help to ease the symptoms of a dry cough.

Flu
The main signs are high temperature, aching muscles and weariness. Take plenty of rest, drink lots of clear liquids (water or squash) and take aspirin or paracetamol. In most cases this is enough and will help, but if you have a long term medical condition, for example diabetes or asthma, or are one of our older patients, then you should consult your doctor sooner.
Sore Throats
Normally these will self-cure within 3-5 days and antibiotics are not advised. Gargling with soluble aspirin or sucking lozenges should provide some relief.

Head Lice
This can be an ongoing problem if not treated correctly. Normally only one course of treatment should be necessary. Always use the treatment as instructed (treatment should only be used if live head lice or detected). To avoid head lice returning, always use a nit comb after shampooing hair and use plenty of conditioner. Leaflets can be obtained from the reception. 

Don't forget, each autumn the flu vaccination is available for patients who are: -

Asthmatic, diabetic, aged over 65, have respiratory problems. For further details see one of our receptionists.